<< Back to News
New York Islanders' John Tavares: Facing a Long Island Bagel offer he can't refuse

Donald Rosner of Bagel Boss has confirmed he will keep his promise of "free bagels for life" for New York Islanders' John Tavares, in an interview with ESNY.
July 1, 2017, began a one-year window in which the New York Islanders were forced to sign their captain and franchise player, John Tavares. (Forced in the sense it must happen or the entire living, breathing world of the island would suddenly be in doubt.)
We're now down to the final week of that window and on Monday, Tavares will hear pitches from five other clubs.
According to David Pagnotta of The Fourth Period, the Islanders have made their first official offer, an eight-year deal worth $88 million ($11 million AAV). Take it, consume it in any fashion you'd like. Rumors around this time of year run wild. What we do know, however, is the sheer will to keep the captain on the Island is apparent.
In the home stretch of the Tavares sweepstakes, Donald Rosner of Bagel Boss in Murray Hill, NYC, has made an offer of his own: A lifetime supply of personally delivered New York bagels.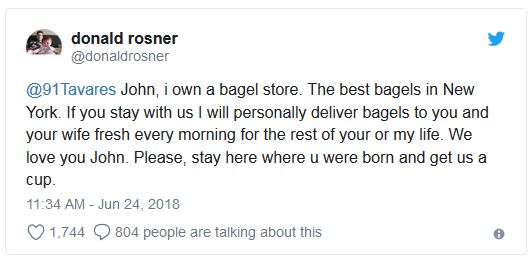 The tweet has since gone viral with over 450 retweets, 1,500 likes and nearly 500 replies. Even the hashtag #BagelsFor91 is going around as Islanders Twitter has embraced the offer. And unlike some other claims we seen on social media in the past, Rosner says that if Tavares re-signs, he will "100 percent" follow through.
Read more