<< Back to News
Tall City Bagel: Bringing the Taste of Brooklyn to the Lone Star State of Texas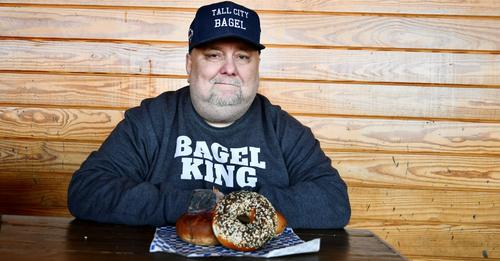 Sometimes you can't be prepared for the happy little accidents life throws at you, but when they happen, it's wise to make the best of them; this is the story of one such individual.
Born and raised in Brooklyn, New York, Mike Schlatman – the proprietor of Tall City Bagel of Midland, Texas – moved to California after getting out of the U.S. Army and remained for many years, later moving to Missouri. But it was through pure happenstance in 2020 that he wound up eventually residing in Midland, Texas and discovering his life's new calling…bagels.
"I actually ended up getting stranded at Midland by accident," Mike said. "I was traveling in a van that I had converted into a motorhome, and coming back through El Paso through the mountains, my engine started acting up. When I got to Midland – a town of only 300,000 people that I had never heard of before – my engine completely went out. I found out the next morning from a mechanic that I had completely blown my engine."
Mike found himself stranded in a small, unfamiliar town with no idea what to do; however, things were about to get even more complicated for him.
"Two or three weeks later, COVID hit," he said. "Since everything was suddenly closed down, when I got my first stimulus check I got an apartment."
Looking for a way to pass the time, Mike started Keto baking in his own apartment. "Keto" refers to the well-known Keto diet – which is heavy on fats and protein, but light on carbohydrates – with many dietary experts citing it as an excellent way to shed unwanted pounds and build muscle.
Mike's Keto cookies were made with almond flour to cut down on carbs, and instead of sugar he used an all-natural substitute known as monk fruit.
"Later that summer, when things started opening back up, I took some Keto cookies to a farmer's market," he said. "I was figuring that I would just meet some people and I didn't really expect to sell much of anything. However, I sold out in 45 minutes, and that was when I realized I was on to something."
For a number of years, Mike had worked as a consultant in the Information Technology field, but at that point he realized it was time for a change. He soon began baking Keto-friendly products out of his apartment in Midland, but after regularly selling out every single weekend at the farmer's market, Mike was eventually forced to change direction as the cost of making Keto-related food items was growing prohibitively expensive.
"I realized within the next few weeks that I was onto something when my items would consistently sell out, so I stopped doing my IT consulting and focused on baking full-time," he said. "Unfortunately, I eventually was forced to stop doing Keto and do something else, because the ingredients were just too expensive."
Deciding to take a different route, Mike subsequently went all in on baking bagels out of his apartment. These doughy treats were quickly and enthusiastically embraced by the residents of Midland, who at that point were lacking any source of authentic, tried-and-true bagels in their small town.
"Since I started doing that in October of 2022, my bagels have been selling out daily from day one," he said. "There are a lot of people here who are originally from New York or the east coast and have tried the bagels there, and they really can't get enough of my bagels. Everything is hand-rolled, I kettle boil everything, and they just can't get enough."
While mainly specializing in your standard bagel types – plain, everything, poppy seed, and so on – Mike does have a few items that he puts a special spin on, including collaborating with a local brewing company whose stout craft beer he incorporates into pretzel bagels, which have proven to be especially popular.
With continued success, came the idea to finally open up a retail location where Mike could peddle his wares for all to enjoy. However, the idea of expanding his business didn't come from Mike himself, but from his many satisfied customers, who suggested the idea and even offered to help him find financial backing to do so.
"My customers came to me and told me that if I got a storefront, they would help me, and suggested that I do a crowdfunding campaign to make it happen," he said. "We actually just opened our first crowdfunding campaign yesterday, and we've already raised $4,000…we're hoping to eventually raise $45,000 to make the business happen. We have two local investors who are looking to come on, and hopefully between them and other contributions we'll get there soon."
The name of the Mike's bagel business – Tall City Bagel – is taken from Midland's nickname as the "Tall City," inspired by several tall skyscrapers situated within its limits.
Mike already has several locations for his business scouted out, although he's waiting to officially commit to a lease until the fundraising aspect is complete. At launch, Tall City Bagel will be using the unique filtration system from New York Watermaker that emulates the same great taste of NY tap water from their local tap.
In the end, a simple misfortune in the form of a blown van engine resulted in Mike's life taking a serendipitous turn for the better, placing him within a new, welcoming community that is allowing him to use his unique skills to become the bagel king of Midland, Texas.
"Honestly, it was scary at first, but things are really doing well and growing and I definitely see a future here, so I'm really happy with that," he said. "And when we get our brick and mortar up, we'll actually be the first bagel shop to open up here in over 25 years. I'm very excited for what's to come, and I really want to thank the people of Midland for helping to make it happen."
To find out more about Tall City Bagel and their progress as they evolve to their retail location, please visit their website at https://www.tallcitybagel.com or their Instagram page. If you're interested in contributing to their crowdfunding campaign, you can do so at https://crowdfunding.tallcitybagel.com or by contributing directly via Paypal (@tallcitybagel) or Cash App ($tallcitybagel).