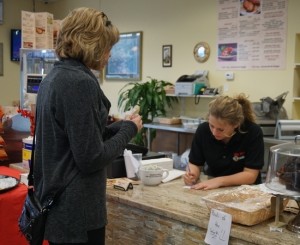 WANTAGE — Eddie Xhudo, owner of "The Bagel Way: Grill and Catering," celebrated his grand opening in the Wantage Plaza on Feb. 5.
Wantage Township Committee Mayor Ronald Bassani attended and congratulated Xhudo and his staff.
Xhudo believes firmly in America being the melting pot of the world, where dreams come true. He dreamed once of owning a restaurant and bagel place. Xhudo is the former owner of "Casa Bellisima" in Andover and now "The Bagel Way" in Wantage Plaza.
Xhudo's own parents escaped from from Albania, and started their own American dream, "Boardwalk's Famous Pizza and Restaurant" of Atlantic City.
He clearly remembers putting together pizza boxes from the age of nine. His family taught him how to work hard and keep an eye on everything: the food, the staff, and become a successful entrepreneur.
His staff members are diligent, helpful, and responsive to customers.
"They produce; they're wonderful; and they're great," Xhudo said.
He reminds them that they are only as good as their last meal, the last sandwich they provided to the customer.
Repeat customer, Adrienne Wieladek said, while waiting for her Italian Hoagie,
"The Bagel Way" has great service and great sandwiches," repeat customer Adrienne Wieladek said while waiting for her Italian hoagie. She also said the hot wings were "awesome," and also enjoyed the biscotti.
Isaac Carteno, one of the chefs who made the biscotti, said everything is homemade, which is evident in the spotlessly clean kitchen where Ian Burdzy and Louie rolled 40 dozen bagels by hand, with great speed.
An enormous mixer banged out more dough, as Louie explained, the bagels would be proofed overnight in the cooler, boiled in an enormous vat of water for a couple of seconds, topped with a variety of toppings, and baked: resulting in hot, fresh, tasty bagels.
Burdzy said an automatic timer turns the vat of water on at 2:45 a.m., so the bagels can be boiled and baked when he arrives at 3:30 a.m.
On top of great food and a wonderful, clean atmosphere, Xhudo also is extremely hospitable, sending a special bag of bagels home with a little girl after his grand opening. At the same time, he continued encouraging customers to have more coffee, although they were already quite satisfied.
His positive way of life is rooted in family. He said he is so proud of his children: Agron, a police officer, his daughter, Lindita, and Tony. Actually, 16-year-old Tony gave "The Bagel Way" its name and sometimes helps on Saturdays and Sundays.
In addition, Xhudo is grateful for his wonderful brother, Mike, who gave him courage to open up the place.
– See more at: http://www.advertisernewssouth.com/article/20160208/NEWS01/160209950#sthash.9pl81m2m.dpuf