<< Back to News
First Look: Philly Style Bagels
This weekend two of our 30 Under 30 finalists, Collin Shapiro and Jonathon Zilber, are opening the doors to Philly Style Bagels — the brick and mortar realization of an idea that started almost three years back.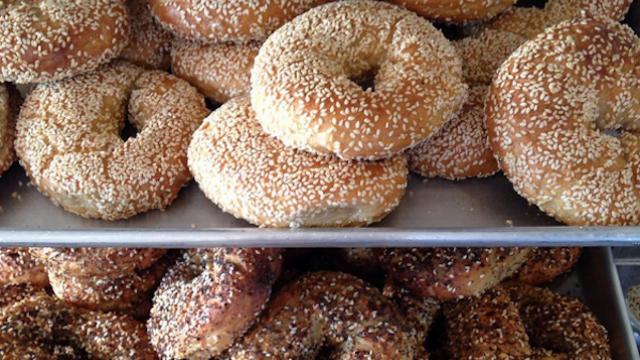 Shapiro and Zilber met while working at craft beer takeout spot, The Foodery, then began collaborating on weekend fermentation projects. (Everything from brewing beer to curing meats.) Although it might seem like a hazy idea now, the impetus came from a side of cured salmon in need of an appropriate vessel, and with that the concept of Philly Style was born.
Mastering the art of bagel making and lending a uniquely Philadelphia-accented flavor with a boil in Yards IPA, Shapiro and Zilber tapped their friend, Joe Beddia, and began hosting a series of weekend popups at Pizzeria Beddia.
Sold out weekends lead to Shapiro and Zilber setting out to find a permanent home for Philly Style, eventually choosing a pizzeria at the corner of East Columbia and Sepviva. A deck pizza oven similar to the one that they were using at Beddia was crowd sourced before renovating the space into a clean, wood and tile takeout joint where they could sell their everythings, sesames and salts during prime hours. (Thursday to Monday, beginning at 7 AM and going until the last bagel is sold.)
After a soft opening weekend where the duo sold out of over 1200 bagels in only two days (and barely five hours!), the shop is officially opening this Saturday, January 16 at 8 AM. The menu (pictured above) is a selection of bagels — all of the usual suspects (onion, poppy, sesame and everything) along with the usual toppings: butter, Tofutti, flavored cream cheese and house smoked salmon. There's also pour over coffee and Coke.
The plan is to up bagel production and ease into the new brick and mortar digs. Breakfast and lunch offerings will surely be expanding in the next couple of months.