<< Back to News
Bagels at Hazon Conference That Rivaled New York's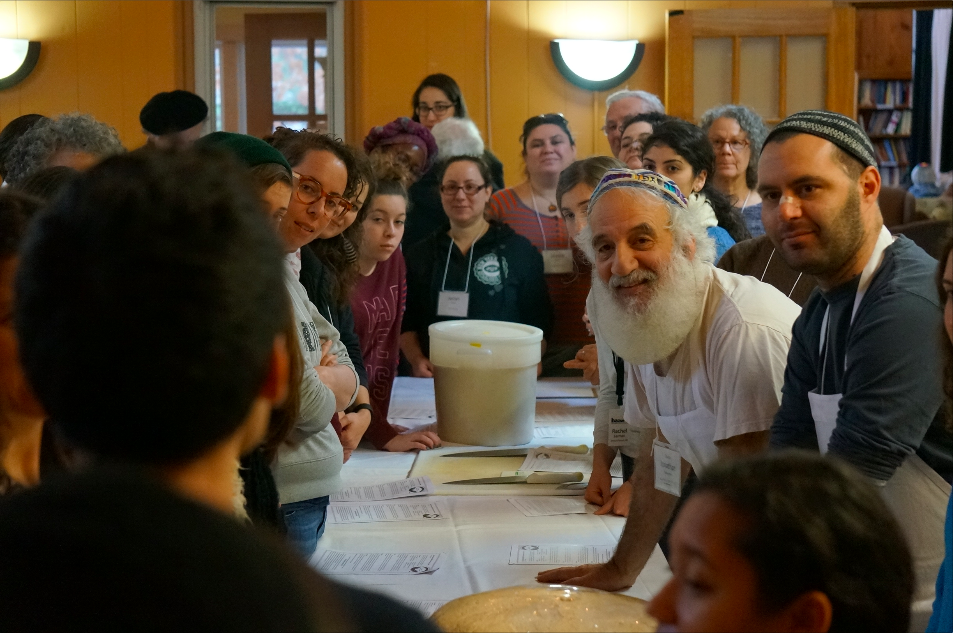 A participant at the Hazon Food Conference, Rabbi Jonathan Rubenstein (white beard) demonstrated challah braiding and bagel rolling. Alexander Rapaport of Masbia Soup Kitchen Network captured a moment.
For a certain type of food- and sustainability-loving Jew (count me in on that list), and really for anyone who enjoys eating well, attending a conference or event at the Isabella Freedman Jewish Retreat Center in the Connecticut Berkshires is a treat. Unlike most conference centers, with their "plasticky" manufactured meals, Freedman is an eco-friendly wonderland (composting! reusable mugs! fair trade coffee!) with nourishing, locally sourced food to match.
Still, even as I have come to expect great things from the Freedman dining hall, the homemade bagel brunch at the annual Hazon Food Conference last week was a particularly spectacular experience.
Each morning, chef Mordechai Schram and his team greeted attendees with slow-cooked oatmeal and steaming miso soup (a traditional Japanese breakfast dish). To these buffet staples he added scrambled eggs and tofu, breakfast potatoes, chopped Israeli salads and, one day, a creamy vegan quiche made from a base of blended tofu, cashews, miso and nutritional yeast.
Leah Koenig is the author of "Modern Jewish Cooking: Recipes & Customs for Today's Kitchen." She is a contributing editor at the Forward.